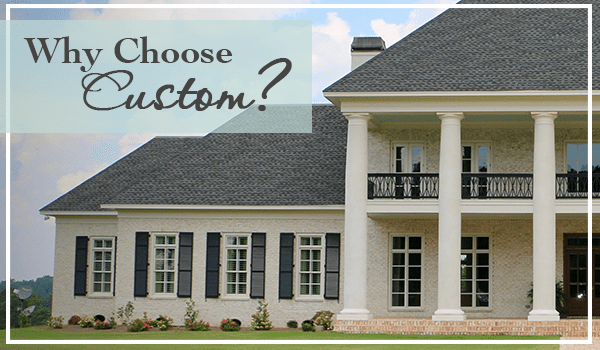 When crafted with premium materials and properly installed, shutters create a lasting impression of warmth and beauty in your home. High quality shutters last generations and have timeless appeal. When you're making a lifetime investment for your home, it's important for the work to be done the right way the first time. That means hand-crafted, custom shutters that are designed with your home in mind. 
Why custom?
– Quality that's long-lasting – Qualify craftsmanship and premium materials create a product that you don't have to replace. We craft from a variety of natural wood species as well as premium composite material, all durable options that stand up to the elements. Our products and our reputation are so strong that we offer lifetime guarantee on all shutters. 
– Measured to your windows – Take the guesswork out of measuring on your own; When you're investing in your home, "I hope it fits" isn't enough. We measure, custom craft and install each shutter professionally, making certain that our products are created with your windows in mind. This results in a better-looking shutter and home for our clients. 
– Styling advice from professionals —With so many options, it can be overwhelming to choose the perfect shutters for your home. That's why we are a full-service business, with design professionals available to offer advice on style, color and materials. Instead of telling you what you "should" have, our consultants focus on what you want and offer advice for what you may need. 
Contact us at Southern Shutter Home today. We'll happy to discuss options and help you make selections that you will enjoy in your home for years to come.