No Clue About Cost? You're Not Alone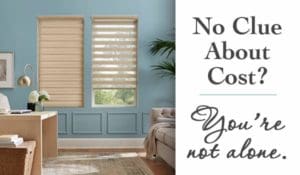 We hear it all the time: "I know I need interior window treatments, but I just have NO idea what pricing to expect." We get it – with so many options in shades, shutters, blinds and curtains, option overload is a very real problem. On top of that, "custom" can be an expensive-sounding word. We also understand that surprises are only fun when they don't revolve around a price tag. But don't worry – we're here to answer your questions! Here is what you can expect from a couple of our most popular offerings. 
Movable Louvered Interior Shutters 
We'll cut right to the chase – depending on the shape and size of your windows, materials used and a few other factors, you can expect the per-window cost of interior shutters to be roughly $300 to $450 per window opening. We know – that's a range! But with SO many options available, you can choose from lower-priced solutions all the way to the most premium products. The cost of interior shutters also is dependent on size – outfitting a bathroom window is very different than creating floor-to-ceiling shutters or even shutters on doors. 
While interior shutters aren't exactly advertised as a "budget-option" for window treatments, we offer customizations that can take them from "pie in the sky" décor dreams to a reality. Reduce cost on interior shutters by selecting a great-looking vinyl option as an alternative to natural wood. Also, if you carefully select which windows feature interior shutters, you can seamlessly mix and match shutters and other treatments, even in the same room. Our skilled (and free) designers will help you every step of the way. 
Blackout shades are an increasingly popular window treatment, and we understand why! The customizable designs, flawless darkening and technological options make them a great fit for any room. But what can you expect as far as pricing? Think anywhere from $275-$400 on average. We know – another wide range. Here's why: 
Blackout shades can be controlled with a variety of options. From a fabric pull with a manual pulley or remote-control options (they even integrate with your Amazon Alexa), there are numerous ways to control your blackout shades. They also can feature very simple, black fabric or blend seamlessly with your décor, only revealing themselves to be blackout upon their closure. All of these options can increase or decrease the price of your shades just as much as the size of a window. 
We hope that these ranges give you a better idea of what to expect, but we know you're still without an exact quote! Chat with us online or call us to discuss rates based on your window size, preferences and even our specials. We'll always offer a free measurement and consultation – no purchase required. 
https://southernshutterhome.com/wp-content/uploads/2020/01/NoClue.thumb_.png
720
720
Shelbie Wallace
https://southernshutterhome.com/wp-content/uploads/2022/07/Logos-01.png
Shelbie Wallace
2020-01-10 08:28:41
2023-04-25 16:27:41
No Clue About Cost? You're Not Alone